By Shujaa Stories 2019
Two hundred years ago, a girl was born into the Oromo community. At a time when men ruled the world and young women had no authority over anything, Hawecha became a powerful leader and the greatest prophetess of the Oromo people.
Hawecha had supple chocolate skin, high cheekbones,
A beauty by any standards, Hawecha had supple chocolate skin, high cheekbones, long nose, wavy soft silken hair and a scarf rustling in the wind. A typical Oromo woman looking after goats in the vast semi-arid expanse of what would later be the Ethiopian–Kenyan border in East Africa.
Hawecha was born into a small Oromo family. She was raised by her mother. Her father died early in her childhood. She had a baby sister, Dhaki who died while young, robbing her mother and her of happiness.
Her nickname was 'the dreamer'. She would dream of the future and her dreams would come true, a prophetess, living up to her very name. At the age of eighteen as was customary, her uncle found her a suitor to marry named Juldess. Her marriage did not last long because her husband was unfaithful.
Through dreams, Hawecha would see war, disease, drought and famine before it happened. She would warn her people, saving them from devastation and death. Hawecha is remembered by the Oromo folk through their oral history passed down generations. Her great inspirational stories are told at the hearth of the fireplace to children and youth. In her memory, the first school in Marsabit, Northern Kenya, was named after her.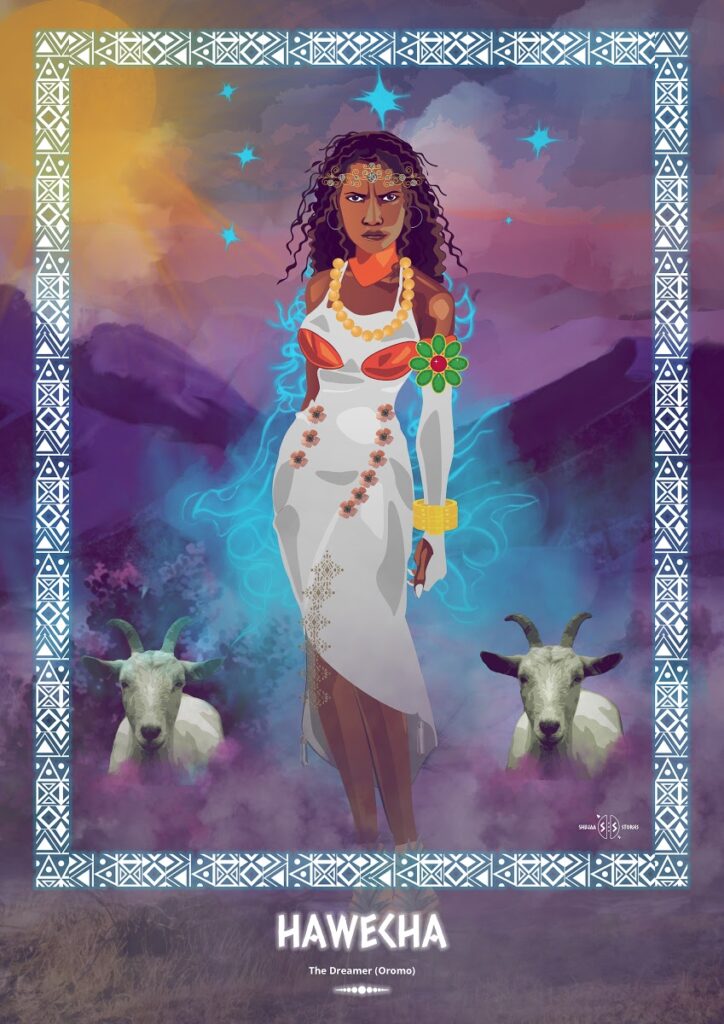 ---
---
Hawecha's legacy lives on
Hawecha was able to predict a famine. Today, climate scientists warn us that climate change will mean more droughts and more floods. When food crops can't grow, there might be famine. We need to prepare for climate change by growing a variety of different crops, including traditional food crops. We must allow forests to grow on hills and steep slopes, and we must protect the banks of rivers and lakes.
Hawecha was able to predict a famine.

.
The Dreamer (Oromo community)
Details
Title: Hawecha: The Dreamer (Oromo community)
Creator: Shujaa Stories
Date Created: 2019
Location: Kenya
Rights: Shujaa Stories in collaboration with Nature Kenya and the National Museums of Kenya
Community: Oromo
About Shujaa Stories: This is a Kenyan superhero display of the country's pre-independence legends who fought for their communities' land, freedom and spiritual well-being; and are revered by their communities to date. Conceptualized in 2017, the idea was the brain-child of Masidza Sande Galavu (1993-2020) who was a Creative Director and co-founder at Shujaa Stories and Tatu Creatives in Nairobi. 'Shujaa' is a Swahili word that means brave or courageous. It also refers to someone who is a hero. Shujaa Stories made its public debut with an exhibition at the Nairobi National Museum in 2018. It shined light on 28 of Kenya's greatest heroes and heroines. Each story was coupled with a bonus text on conservation related to the heritage sites surrounding where these legends once lived. In 2020, supported by National Museums of Kenya and Google Arts and Culture, Shujaa Stories Ltd completed over 30 new shujaas that cut across the major and marginalized Kenyan communities. Kenya is rich in history and culture. Some of this richness has been brought out in our books, museums and in theatre. But there is one major section of our history that has been left out, especially to the younger generation of Kenyans, which are our pre-independence legendary heroes. Some of these heroes are known well beyond their communities due to the respect they managed to garner across the region. Many of them have a well-developed and sophisticated folklore which embodies their history, traditions, morals, worldview and wisdom. The design language chosen for the entire exhibition is animated illustrations that seek to bring out the superhero character of each shujaa.